Autologous growth factor treatment
PRP(Platelet Rich Plasma) Facial and PPP(Platelet Poor Plasma) Facelift
At GentleCare Laser Aesthetics, Dr Tariq Khan will perform Advanced PRP CD 34+ PRP Facial Facials and customized PRP Skin Rejuvenation treatments to improve facial appearance and naturally rejuvenate skin.
Due to the overwhelming interest in patients seeking less-invasive procedures for facial rejuvenation, PRP, otherwise known as Platelet Rich Plasma Therapy, is being used cosmetically to treat volume loss in the face, hands, and neck; crepey skin under the eyes and neck, as well as wrinkles, acne scarring, stretch marks, and overall skin rejuvenation.*
---
BY WHAT MECHANISMS DO INJECTIONS OF PRP RESTORE FACIAL APPEARANCE?
Platelets play a role in stopping bleeding and in repairing damaged blood vessels and cells in the body. Platelets also contain substances called "growth factors" that activate and rejuvenate cells in our body. PRP uses the patient's natural biology to address skin defects and volume loss, triggering production of new cells and collagen formation.*
---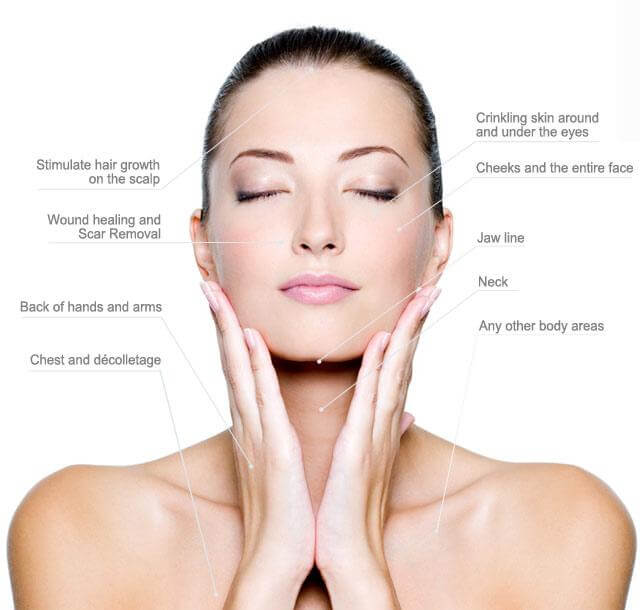 WHAT MAKES GENTLE CARE'S PRP UNIQUE?
GentleCare Laser Aesthetics utilizes a unique Method of PRP preparation that is specifically formulated by Dr. Khan for the rejuvenation of skin and hair. This system not only captures the ideal concentration of Platelet Rich Plasma and growth factors but also includes CD34+ cells which further aid in tissue regeneration.
---
HOW LONG DOES THE PROCEDURE TAKE, AND HOW IS IT PERFORMED?
PRP takes about 20-minutes to prepare. After 30- 60mls of blood is drawn from the patient, it is spun down in a centrifuge for 15 minutes at a pre-calculated speed to retrieve the most viable fibrin and platelets. After centrifugation, the platelet and fibrin component of the blood (the top layer) is extracted and re-injected into the area of concern. **Time May Vary.
---
PRP FACIAL
Platelet Rich Plasma is used with micro needling. The micro-channels created by micro-needling provide direct pathways to the deeper layers of skin for optimal wound healing. The PRP is topically applied to the skin during the micro-needling procedure as the micro-channels created by the treatment allow for optimal absorption of Platelet Rich Plasma (PRP). Micro-needling with PRP works to smooth fine lines, wrinkles, and scars; and thicken the dermis and epidermis for increased plumpness and overall rejuvenation of the skin.*
---
PRP-EYE REJUVENATION
Did you know injected PRP injected in the under-eye area may help to decrease dark circles and puffiness and reduce fine lines and wrinkles? PRP eye treatments can be added on to any PRP service or booked as an individual treatment.*
---
PRP MESOTHERAPY FACIAL
PRP is injected into the skin in small boluses. The treatment may promote natural tissue regeneration and increase collagen production, improving the quality of the skin, smoothing fine line and wrinkles, and helping to restore luminosity.*
---
PRP FACIAL REJUVENATION
This procedure involves microneedling with PRP followed by PRP Mesotherapy. The collagen stimulation occurs gradually and subtly, enhancing your skin's health naturally and beautifully. The natural aging of skin is due to an imbalance between the rate of destruction and renewal of cells and collagen. By promoting the process of natural tissue regeneration, injections of Platelet Rich Plasma help to improve skin quality and smooth fine lines of the face, décolleté and hands.
---
---
PRP FACE LIFT
The PRP Face Lift procedure utilizes all phases of the PRP Facial Rejuvenation and adds PRP CD34+ filler to address volume concerns in areas such as nasolabial folds, cheeks, jaw, and periorbital areas.
Results from Advanced PRP CD34+ Skin Rejuvenation may include:
Restores luminosity, vitality and hydration to skin
Restores the cutaneous vitality
Preserves and restores radiance of the skin
Fills fine lines and smoothes wrinkles
Increase in the thickness of the dermis and epidermis
Accelerates the regeneration of endothelial and epithelia
Increases the synthesis of collagen and hyaluronic acid
Results may vary.*
---
WHAT TYPE OF RESULTS CAN GENERALLY BE EXPECTED?
The results in the injected area may be seen over the course of several weeks following the treatment. Once the full treatment results are achieved the aging process starts again and how long the results last depend on life-style, stress, genetics, hormone levels and diet.*
---
WHAT IS THE POST TREATMENT DOWNTIME?
Post treatment downtime may include: redness, swelling and possible bruising. Redness and swelling typically subside within 24 hours but for some people may last several days or longer. Flakiness and or dryness is also common day 3-7. Bruising may occur and is more common with Mesotherapy. The length of time it takes for bruising to heal is variable between individuals. *Downtime may vary.
---
FOR WHAT TYPES OF PATIENTS IS THIS PROCEDURE MOST AND LEAST SUITABLE?
Any patient who wishes to reduce volume loss, fine lines, and textural changes of the skin is suitable for this procedure. It also appeals to the patient who is looking for a natural approach to volumizing the face and treating or reducing fine lines. It has been found that our skin begins to age from about 18 years old and fine lines and wrinkles occur in our 20's. Clients who want a youthful glow and to reverse aging of the skin can begin to utilize PRP when they start to notice those changes for prevention.*
---
HOW LONG ARE THE IMPROVEMENTS MAINTAINED? IF NECESSARY, CAN THE PROCEDURE BE REPEATED, AND IF SO, WITH WHAT ANTICIPATED OUTCOME?
PRP can be repeated, and optimal results may be seen with a total of 2-3 treatments given 4-6 weeks apart.*
---
HOW DOES PRP THERAPY COMPARE WITH INJECTIONS OF FILLER, BOTOX?
This procedure can be combined with dermal fillers, Botox injections, laser, and other treatments. PRP builds tissue over time, whereas traditional filler breaks down over time.*
---
IN WHAT SITUATIONS MIGHT PRP THERAPY PLUS FILLER INJECTIONS BE HELPFUL?
It is nice to layer PRP with traditional fillers. Often called the "PRP Facelift" If a patient has volume loss with a lot of fine lines and textural changes, one can utilize PRP to create a new foundation of collagen and use dermal fillers for the deeper lines.*
---
IF YOU ARE INTERESTED IN PRP FACIAL AND ADVANCED PRP TREATMENTS CALL GENTLECARE LASER AESTHETICS TO SCHEDULE YOUR COMPLIMENTARY CONSULTATION 657-218-9859.
*Results May Vary