Botox: Facial lines and wrinkles
Orange County Dermal and Wrinkle Filler Specialist
After the age of 50 we lose 1% of our dermal collagen, elastins and hyaluronans per year. As a result we experience facial changes such as:
A thinning dermis
Hollowing of the cheeks and mouth areas
Deepening lines in nasolabial folds
Descending fat pads due to gravity
Greater bony landmarks
Thinning of the lips
Flattening of the upper ridges from the nose to the mouth
Dropping of the mouth corners causing loss of support for the lip and leading to "marionette" lines
Drooping of the nasal tip
Decreasing support of lower third portion of the face
---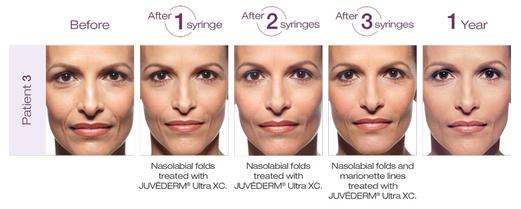 ---
There are various methods used today to utilize dermal fillers to its full potential. Most techniques involve multiple injections after numbing to the area being treated. This in turn results in greater trauma and higher risk for bruising and complications of injected fillers.
At GentleCare Laser Aesthetics, for large areas such as nasolabial folds, thinning of the lips, marionette lines, etc, Dr Tariq Khan utilizes the cannula method to ensure greater comfort and less complications.
Call us today at 657-218-9859 for a free consultation
---
Juvederm
Recently approved by the FDA, Juvederm™ injectable gel is a "next-generation" dermal filler. The smooth consistency gel helps to instantly restore your skin's volume and smooth away facial wrinkles and folds, like your "smile lines" (nasolabial folds—the creases that run from the bottom of your nose to the corners of your mouth).
Juvederm™ dermal filler lasts long because it's the only dermal filler currently available with the highest concentration of hyaluronic acid and a special formulation process. This process creates a smooth gel that flows easily into the skin, creating smooth, natural looks.
All other currently approved hyaluronic acid dermal fillers use a gel particle suspension formulation. These gel particles may be visibly seen as opposed to the smoother formulation used in Juvederm™. The smooth consistency of Juvederm™ dermal filler also may help to minimize the discomfort that can sometimes occur during the injection procedure. In addition, Juvederm™ injectable gel is the first FDA-approved hyaluronic acid dermal filler that is proven to be safe and effective for persons of color.
---
---
FAQ's
How effective is Botox?
In a clinical study with Botox Cosmetic, the majority of patients (82.5%) reported an improvement in glabellar lines after a week. Results were still reported up to 4 months later.*
---
Does the injection hurt?
A very tiny needle is all that is needed for the procedure. Some patients report minor and temporary discomfort from the injection.*
---
How long does Botox last?
This depends entirely on the patient, but a single treatment of Botox® will normally be sustained for approximately three months. You will notice a gradual fading of its effects. At this point you will return to your doctor for your next treatment.
---
Botox Cost?
Check with us frequently to catch any ongoing promotions.
---
What areas can be treated with Botox?
Note that in experienced hands, Botox Cosmetic can be used for more than treating lines and wrinkles. With injections into specific areas of the face, Dr. Khan is able to reshape the brows and alter their position as well as slightly round and open the eyes.
---
Areas that can be treated include but not limited to:
Botox Glabella/frown lines (area between the brows)
Botox Horizontal forehead lines
Botox Bunny lines (wrinkles on top of your nose)
Botox Crow's feet
Botox Peri-oral lines (around the mouth)
Botox Neck bands
Botox Chin
Botox Brow lift (Botox can be injected above the outer area of the brow to create a lifting effect)
Jaw line narrowing or Botox jaw reduction
Botox Sweat reduction for armpits (underarms) and hands or hyperhidrosis
Botox Gummy smile reduction or correction
The procedure is usually comfortable and requires no anesthesia, although some patients choose to numb the area with a cold pack prior to injecting. Downtime is not expected after the procedure and bruising is uncommon. You will notice a marked improvement in days and the results should last 3 to 6 months.*
Please call 657-218-9859 to schedule a free consultation with Dr. Tariq Khan at GentleCare Laser Aesthetics.
Note: Dr. Khan uses Preserved Normal Saline for reconstitution of Botox which decreases the discomfort of the injections.
---
Botox® Cosmetic is a simple physician administered treatment which involves the injection of purified protein into specific areas to temporarily smooth lines, wrinkles and furrows caused by excessive facial movements. Botox Cosmetic is the most popular aesthetic treatment in the world today with over 4 million procedures done last year alone. This is the only treatment of its kind that is approved by the Food and Drug Administration (FDA).
When administering Botox, Dr. Khan evaluates patterns of facial muscle movement and looks for moderate to severe facial lines caused by the action of these muscles. The location, size and action of the muscles that create these "dynamic lines" vary among different individuals. Dr. Khan will mark these locations and administer several tiny injections of Botox Manhattan directly into the muscles that cause these dynamic lines. The objective is to create a youthful and more relaxed appearance and NOT a "frozen" or "expressionless" look.*
Each area requires a different number of units of Botox as determined by Dr. Khan.
*results can vary based on individual conditions